EXPOSITIONS PRÉCÉDENTES / PREVIOUS EXHIBITIONS
The 48th Japanese Today's Visual Arts Exhibiton in Corsica-France(2016)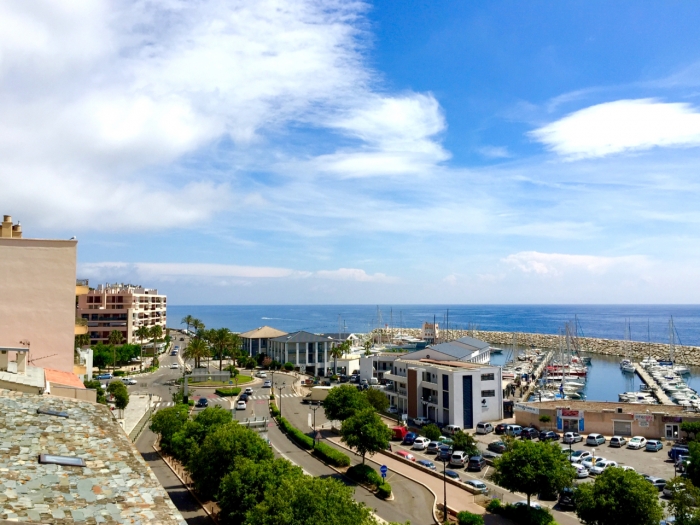 The 48th Japanese Contemporary Arts Exhibition in Corsica 2016
This exposition was held from June 17th to June 26th at the Municipal Theater of Bastia, as well as the Culture Center of Alb'Oru, San-Giuliano and Ventiseri, located on the east coast of Corsica. In total, 252 original works of art from 173 Japanese artists were displayed. The delegation of 20 Japanese artists participated in the opening ceremony and promoted good will among the local attendants while receiving a warm welcome by all the visitors and artists.


The 48th Japanese Contemporary Arts Exhibition in Corsica 2016
Exhibition:June 17 to 26, 2016
Exhibition venue:Théâtre Municipal/ Alb'Oru / San-Giuliano /Ventiseri
Organizer:Club des amis de l'europe et des arts(C.A.E.A)
Collaboration:JIAS,NEPU
Support:City of Bastia,City of San-Giuliano,City of Ventiseri,Embassy of Japan in France

Bastia

Mr. Jean-Marie Zacchi
Opening ceremony in Bastia
Mr. Pierre Savelli (Mayor of Bastia)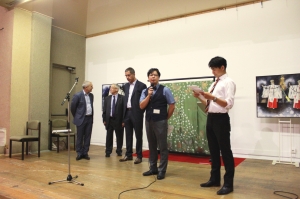 Bumpei Magori(President of the CAEA)
On Friday June 17th at the opening ceremony in Bastia, Mr. Jean-Marie Zacchi (General Director of the exhibition) and Mr. Bumpei Magori(President of the CAEA) held an interview for the local media and discussed the themes of the exposition, pieces that were on display as well as the cultural interchange between both art communities.

The delegation of Japanese artists first visited Alb'Oru. This cultural center was opened in September 2015 to help further promote cultural development in Bastia. Each day large number of people visited the event, a majority of them being students and younger people.
Théâtre Municipal

with japanese artists
Definitive pieces of Japanese contemporary art were on exhibit along with artwork from members of NEPU.
At the ceremony, Mr. Pierre Savelli (Mayor of Bastia) and Mr. Zacchi gave a speech in front of large number of citizens and medias. Mr. Savelli admired the exhibited works and recounted the common points between Japan and Corsica such as the "autonomy and the purity of the citizens", and the " respect for nature", as well as expressing his affinity to both cultural spirits. Mr. Zacchi remarked that he was very proud of the collection of high level works, just as he was in 2006 when the exhibit was previously held. He then presented the Japanese delegation to the audience and welcomed them once more.
Media coverage

Alb'Oru
On the same day, many visitors came from not only Bastia but also from the northern regions of Corsica, having heard of the opening of this exhibition via the local medias and internet. It was a magnificent opportunity for the Japanese artists and the citizens of Corsica to partake in an exchange of culture.
Mr. Zacchi also gave his honest and suggestive critiques of each work of art in the serene environment.
demonstration on calligraphy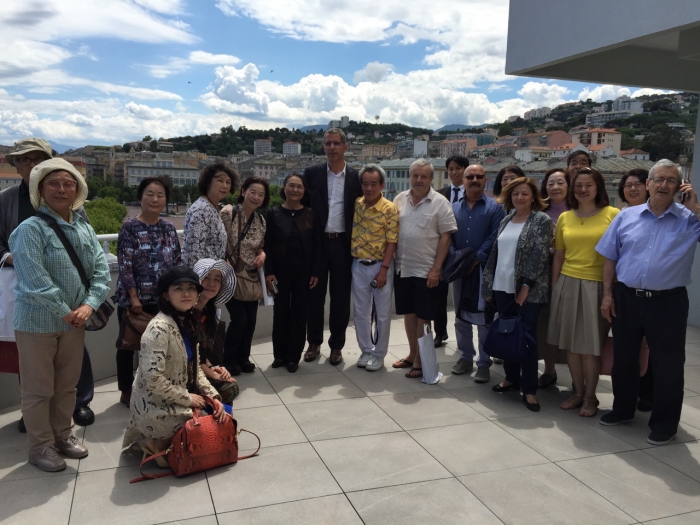 San-Giuliano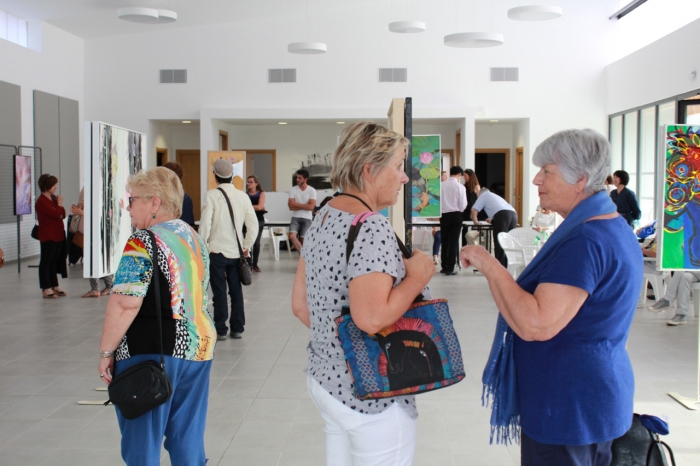 On June 18th, in San-Giuliano situated on the breathtaking coast of Corsica, Mr. Francois-Xavier Ceccoli (Mayor of San-Giuliano) and Mr. Simon-Pierre Riolacci (Mayor of Valle-di-Campolore) attended and celebrated the opening of the exhibition with city officials and other guests. Many local families came to the ceremony as well and everyone delighted in the festivities.

Several artworks of Mr. Zacchi along with some Japanese pieces were exhibited under a magnificent naturally lit high ceiling. Mr. Ceccoli then gave a detailed commentary of Mr. Zacchi captivating artwork.
Exhibition banner

Mr.Zacchi and Bumpei
Mr. Francois-Xavier Ceccoli
demonstration on calligraphy

workshop
Many local families came to the ceremony
Ventiseri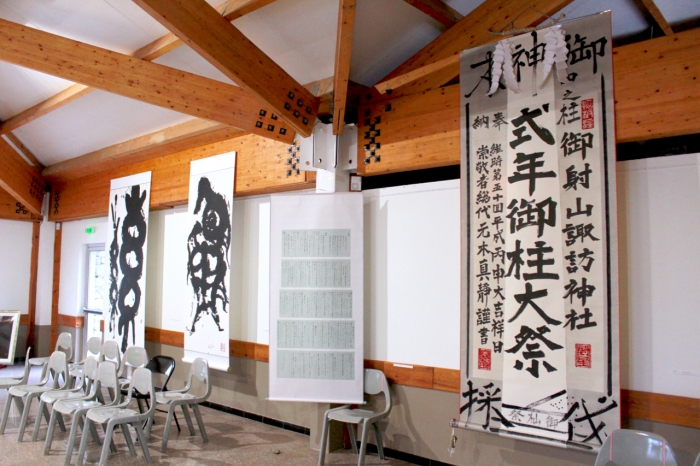 Ventiseri
On Sunday June 19th, in Ventiseri, located in the mountainous area of Corsica, Mr. Francois Tiberi celebrated the opening ceremony with many citizens as well as the local members of the media. In this exhibition hall with a high ceiling, long hanging scrolls of calligraphy were exhibited. Many of the visitors who had never seen Japanese traditional art had a deep emotion reaction to this artworks and listened carefully the commentary of Mr. Zacchi.
At this ceremony, a demonstration and workshop on calligraphy were held by Mrs. Koho Kurihara. Many visitors, families and local artists admired and appreciated the complex world of calligraphy. Gleeful children and adults alike took part in this wonderful occasion of cultural interaction.
The Japanese delegation received an enthusiastic welcome everywhere they and swore an eternal friendship between both communities and promised to reunite again in the near future.
The 48th Japanese Today's Visual Arts Exhibiton in Corsica-France concluded as a great success for all those involved and who took part.

●Facebook
https://www.facebook.com/caea.corse/?fref=photo
Next exhibition is Favara!Please check
our Facebook