EXPOSITIONS PRÉCÉDENTES / PREVIOUS EXHIBITIONS
The 19th France-Japan Multinational Contemporary Art Exhibition 2018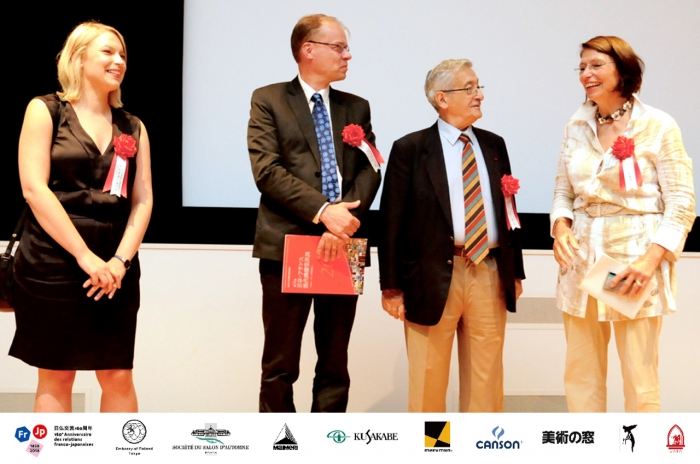 The 19th France-Japan Multinational Contemporary Art Exhibition, which was organized by the Japan International Artist Society, was held from Wednesday August 8th to Sunday August 19th 2018 at the National Art Center of Tokyo.

It was the 6th exhibition held at the National Art Center of Tokyo and on the first day, despite a typhoon, all ceremonies were held without any interruptions.

In spite of the intense heat, we had far more visitors than usual from home and abroad. Furthermore, we have come to realize that our annual exhibition has become an established event after having so many art lovers visit this exposition year after year.
THE NATIONAL ART CENTER, TOKYO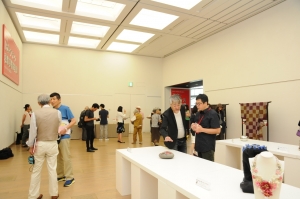 exhibition hall displayed a total of 304 pieces
At the entrance of the exhibition hall, we displayed kimonos, tapestries, folding screens, Japanese ink paintings, as well as calligraphies.

The modern and spacious exhibition hall displayed a total of 304 pieces, 222 pieces by 193 Japanese artists and 82 pieces from various nationalities, including France, the Netherlands, China, and the United States. The diversity attracted a unique amount of attention from both Japanese and people from abroad. This was one of many reasons why so many foreign artists visited our exposition this year.

Most notably, more than 20 artists from the Salon d'Autome society were invited and who played both is their admiration and affect.

A large red signboard, placed at the entrance from the beginning of this year welcomed all visitors each day of exhibition.
On the opening day of August 9th, several events took place in the auditorium of the museum. At first, a lecture titled " Art scene in Southern Ostrobothnia, Western Finland" was given by Mr. Vesa Koivunen (Mayor of Alajarvi) and Ms.Elian Alkio (director of the Exhibition in Finland), who came from Alajarvi, the next venue of the Exposition in Finland. They gave a presentation about Alvar Aalto (architect), Eero Nelimarkka (painter) and the art that was born in this town blessed with dazzling nature and how it molds the daily lives of people in Alajarvi.

After the lecture, the attentive audience asked many questions and the lecturers concluded their speeches, saying "It will be an honor to meet you again in Finland in May of next year."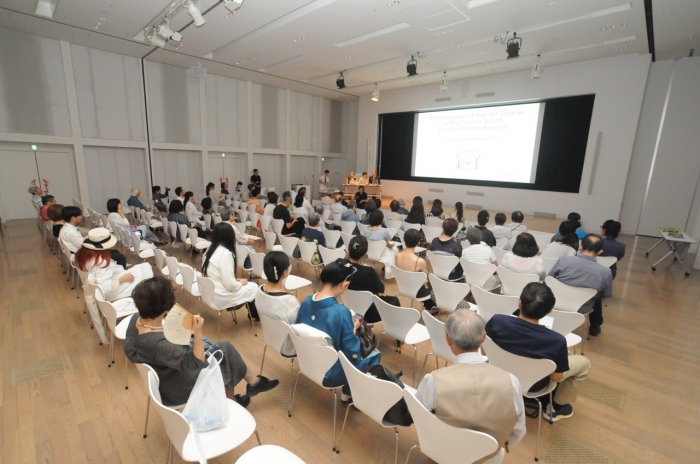 " Art scene in Southern Ostrobothnia, Western Finland"
Ms.Elian Alkio (director of the Exhibition in Finland)
An award ceremony was held for prize winners of the CAEA/JIAS exhibitions from 2017 with Ms. Sylvie Koeclin (The president of Salon d'Automne), Mr. ZACCHI Jean-Marie (The Honorary President of this Exhibition in France) and Finnish guests were in attendance along with several company sponsors.

Prize winners were given awards in front of images of their celebrated works.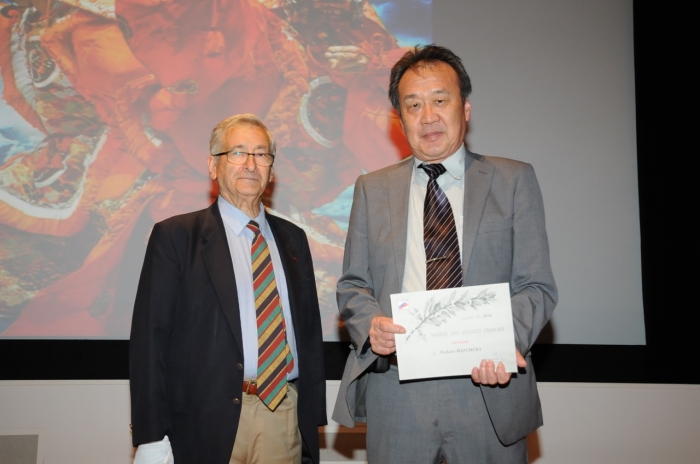 Monsieur Jean-Marie ZACCHI
Ms. Sylvie Koeclin

Mr. Vesa Koivunen (Mayor of Alajarvi)
At the opening reception, following the opening addresses from our guests, Mr. MAGORI Bumpei (President of the CAEA/JIAS) gave a speech.

Afterward, Mr. IWATANI Tomio proposed a toast on behalf of all the Japanese artists and the more than 180 guests who has traveled from many different countries from around the works and who enjoyed intercultural networking and mingling.

The opening reception, which was not a buffet party as usual but a cocktail party, welcomed more guests than any other previous year in spite of the bad weather.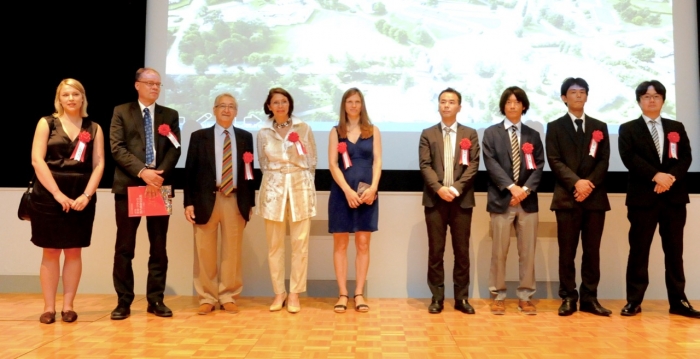 MAGORI Bumpei, Président de C.A.E.A.
the more than 180 guests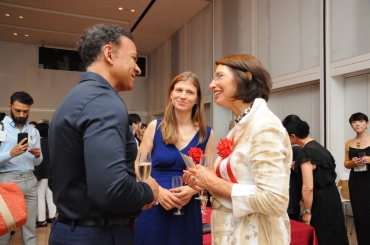 The next day, a conference critiquing several Japanese works was held in the exhibition hall. Ms. KŒCHLIN, Mr. ZACCHI and the people involved with the Exhibition in Finland all gave impassioned commentaries.

This allowed them an opportunity to be appraised from an international standard, which was of immense use and benefit for all the artists and helped further encourage their artistic abilities and future works. Here is a note given by one of our esteemed commentators.

"I'm very happy to have the opportunity every year to share my opinion with Japanese artists, who are always modest and amiable. I hope our commentaries will help your next creation and you will continue to participate in exhibitions."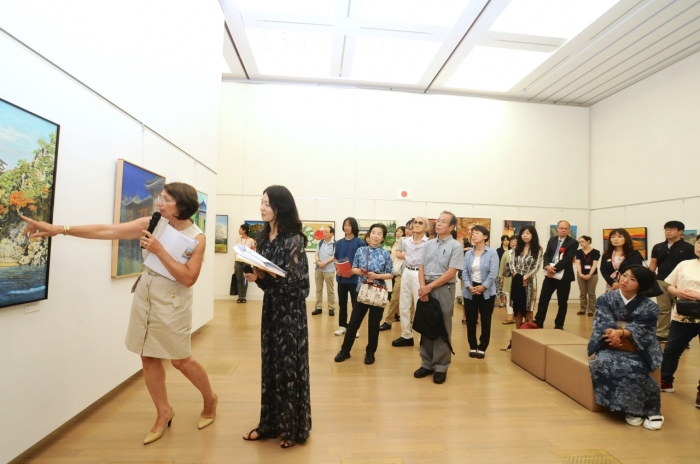 Furthermore, a donation box was placed to "offer sketchbooks to children in Rikuzen-Takada" as part of the reconstruction support for the Great East Japan Earthquake, which collected 68 650 yen.

The sketchbooks were promptly sent to a nursery school in Takada where they have found a good home with these children.
In spite of the typhoon, which nearly prevented us from holding several of the ceremonies, the overall number of visitors to the exhibition exceeded 8000 and the exhibition turned out to be a huge success.

Finally, we wish all the best to those who couldn't come and we hope we can meet next time.