EXPOSITIONS PRÉCÉDENTES / PREVIOUS EXHIBITIONS
The 50th Japanese Visual Art Exhibition in Spain was held from May 28th to June 10th at the Culture Center in Gijón, the capital of Asturias in Spain.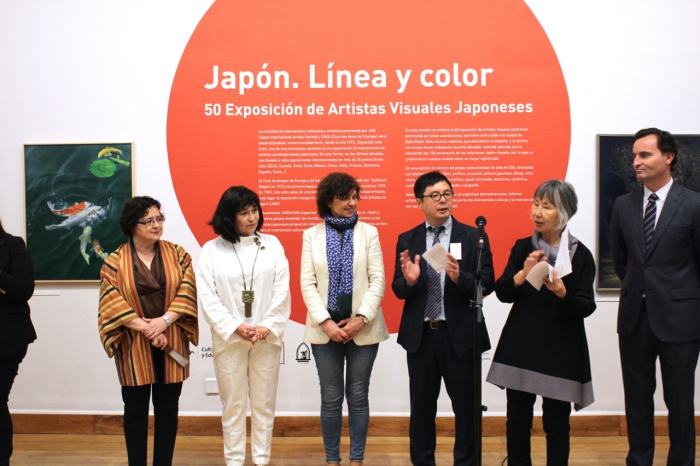 The 50th Japanese Visual Art Exhibition in Spain was held from May 28th to June 10th at the Culture Center in Gijón, the capital of Asturias in Spain.
Fechas :28 mayo - 10 junio 2018
Organizador :CAEA - Club des Amis de l'Europe et des Arts
Coorganizador:JIAS - Japan International Artists Society
Ayuntamiento de Gijón/Xixón
Patrocinador :NEPU - Nouvelle Ecole de Paris UKIYO - É
Colaboradores:Embajada de Japón de España
Fundación Municipal de Cultura, Educación y Universidad Popular
Gijón Turismo
Sala de Exposiciones: Centro de Cultura Antiguo Instituto
The 50th Japanese Visual Art Exhibition in Spain(2018)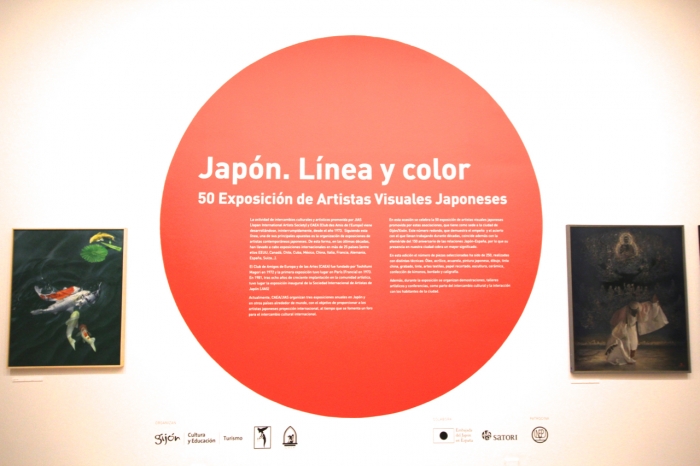 The 50th Japanese Visual Art Exhibition in Spain was held from May 28th to June 10th at the Culture Center in Gijón, the capital of Asturias in Spain.
 
This Center was built by Gaspar Melchor de Jovellanos, a  neoclassical statesman of Gijón and painted by Francisco José de Goya, a Spanish romantic painter. It was the first vocational school for hard-working but poor fishermen in Gijón. Today, Gijón University of Education stands in the same place and has become a symbol of culture, knowledge and love for humanity. Our exhibition started with good wishes by local attendants, the media and everyone in attendance. 
 
253 original works of art from 183 Japanese artists (including series of 3-5 works as personal exhibitions) were displayed around a logo with the Japanese flag for its motif in a spacious bright white room. We also presented 5 representative artists of NEPU, authorized by New École de Paris who are highly regarded both at home and abroad.
A great variety of techniques and expressions such as oil paintings, acrylic paintings, watercolor paintings, Japanese paintings, calligraphies, ink paintings, pen-and-ink drawings, three-dimensional works and artistic handicrafts attracted a large number of visitors consisting of students, families as well as art lovers who were interested in Asian culture and art. 
 
The delegation of 32 Japanese artists participated in the opening ceremony. On Monday, May 28th at the opening ceremony, they received a warm welcome by local attendants, the media, and artists alike. 
Ms. Lopez Montserrat (cultural councilor of Gijón and director-general of Cultural foundation), Mr. Jorge  Palacios (Chief of Gijón Tourism Association) and Mr. Akira Suzuki (manager of public relations of Embassy of Japan in Spain) offered their praise before Mr. Bumpei Magori expressed his gratitude to all the people who partook in the event. 
While the exhibition was open to the public, a demonstration on calligraphy was held by Mrs. Koho Kurihara in a large and comfortable room. She made the complex world of calligraphy enthralling and compelling to all the visitors who in the end showered her with applause at the conclusion of the presentation. 
 
A conference critiquing several Japanese works, with both artist and visitors were in attendance was held. Ms. Raquel Rodriguez (director of Gijón cultural fondation), Ms. Lucía Pelaez (director of Gijón National Museum) and Ms. Natalia Arduengo (Art historian and director of the Exhibition) gave multi-layered and in depth commentaries and assessments on several pieces. 
 
On May 29th, the delegation visited the "Project Artistic Casa Antonio" (PACA), an artist run space that promotes new creations and pieces in an old country farmhouse in rural Gijón, Spain. This project is known by artists all over the world and has recently attracted a lot of international attention. Many artists, (especially avant-gardistes) come here to carry out creative activities in nature and experience great pleasure along with intercultural exchanges through self expression. 
 
After that, the delegation payed a visit to Gijón City Hall where they received an enthusiastic welcome. This visit was reported by the local media. When interviewed, Mr. Magori spoke of the objectives of the exhibition, the delegation, as well as the cultural exchange events that had taken place. 
 
Furthermore, upon request from the City Council, we gave workshops on origami and cartography as well as lectures on ukiyoe and Japanese contemporary architecture in a conference room. Gleeful children and adults alike took part in this wonderful occasion of cultural interaction. 
 
The Japanese delegation received an enthusiastic welcome by the citizens of Gijón as well as all those who participated in the event. They left this great city pledging a continued friendship between both communities and promising to reunite again in the near future.